FTI - America is devoted to providing manufacturers with a broad range of high quality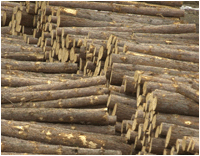 products. Our clients are the very best furniture, flooring, door and molding manufacturers from around the world. We adopt a market-by-market approach to business, enabling us to serve a variety of manufacturers with the right products, competitively priced, and backed by our commitment to total customer satisfaction.

In hardwoods, we specialize in supplying quality Alder, Ash, Aspen, Basswood, Beech, Birch, Cedar, Chestnut, Cottonwood, Elm, Hackberry, Hard Maple, Hickory, Pecan, Poplar, Sweet Gum, Sassafras, Red Oak, Soft Maple, Walnut, White Oak and Willow.

In softwoods, we specialize in supplying quality Cedar, Cypress, Douglas Fir, Hemlock, Larch, Sitka and White Spruce and Southern Yellow Pine.

For quality products, dependable service and integrity, we invite you to join the FTI team, and let us work for your success.
Quality Consistency

FTI's customer-oriented culture is directly reflected in our consistency and high quality guarantee, which remains one of the highest standards in the forest products industry.