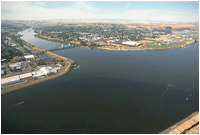 FTI America® (Fiber Technologies, Inc. ) was established in 1990, and through an innovative approach to partnership and service is now one of the largest forest products export companies in the Northern United States. FTI's clients are among the most successful furniture, flooring, door and molding manufacturers in the world. Based in Washington, FTI exports quality forest products to manufacturers throughout Europe, Asia and Central and South America.

With distribution rights of over 55 hardwood and softwood sawmills throughout the United States and Canada, the company is a major supplier to the global forest products manufacturing community. FTI's clear focus and dedication has helped the company sustain rapid growth over the past several years. The company continues to develop strong relationships with manufacturers committed to quality products, integrity and growth.

The global forest products industry is broad and complex. When your company works with FTI, it joins a team of experts that insures your buying decisions are the very best. Let us help promote your company.

We look forward to hearing from you, and working for your success!

FTI = Quality + Service + Integrity®